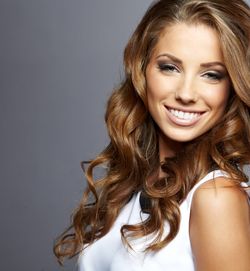 At Brown & Baran Family Dentistry, Dr. Paul E. Brown and Dr. Christopher S. Baran can create beautiful smiles using traditional or minimal-prep veneers. Porcelain veneers are thin, ceramic shells that fit over the front of your teeth, instantly concealing any imperfections. Contact us today to learn more about porcelain veneers and schedule a consultation at our Seaford or Wilmington offices.
What Can Porcelain Veneers Conceal?
Porcelain veneers can help patients whose teeth are:
Gapped: Veneers can be custom made to close the spaces between your teeth.
Misshapen: Veneers can elongate your teeth to create a symmetrical, balanced smile.
Discolored or stained: Veneers can be especially effective if your teeth do not respond well to teeth whitening or you have intrinsic stains.
Fractured or chipped: Since the porcelain shells cover the teeth, they can easily mask any fractures or chips.
Slightly crooked: Veneers can cover mild to moderate misalignment, making the teeth appear straight and uniform.
At your first appointment, Dr. Brown or Dr. Baran will use our intraoral camera to get a detailed look at the inside of your mouth. We can also display these images on a television screen so you can better understand your treatment options.
Who Is a Candidate?
You may be a good candidate for porcelain veneers if you:
Have no cavities
Have a properly aligned bite
Do not have periodontal (gum) disease, such as gingivitis
Do not suffer from bruxism (teeth grinding), since this could damage your veneers (although you may be eligible for veneers if you are willing to wear a night guard to protect your teeth)
Have enough tooth enamel to hold the veneers in place
Are willing to properly maintain and care for your teeth after veneer placement
Types of Veneers
We offer traditional and minimal-prep veneers. If you choose traditional porcelain veneers, Dr. Brown or Dr. Baran will assess your teeth and shape them to accommodate the veneers. We typically perform this part of procedure under local anesthesia to keep you comfortable. Next, we will take an impression of your teeth using our intraoral camera. This 3-D image will serve as the model the lab will use to craft your veneers. Once the custom veneers are fabricated, a process that takes about two weeks, we will attach the veneers to your teeth with strong bonding cement.

For patients who want to preserve their enamel or have sensitive teeth, we also offer LUMINEERS®. These veneers are thinner, approximately 0.2 millimeters thick. Since they are so thin, we can remove a smaller amount of enamel and, for some patients, no shaping is required. However, patients with dark tooth stains or more significant cosmetic imperfections may not be good candidates for LUMINEERS®.

Drs. Brown and Baran will discuss the benefits and disadvantages of traditional porcelain veneers and LUMINEERS® at your initial consultation.
Frequently Asked Questions
Are porcelain veneers painful?
Receiving porcelain veneers is completely painless, as the procedure is non-invasive. However, to ensure you won't feel any pain or discomfort, your dentist will administer a local anesthetic beforehand. While it's normal to feel mild sensitivity after having your porcelain veneers placed, any discomfort usually fades within a few hours. You can manage any soreness with over-the-counter pain medications and cold compresses in the meantime.
How long do porcelain veneers last?
Porcelain veneers can last up to 15 years with proper care and maintenance. This includes brushing your teeth twice a day, flossing daily, and rinsing with mouthwash between meals. It's also important to schedule biannual checkups with either Dr. Brown or Dr. Baran at our Wilmington practice so that they can examine your veneers and inspect for any issues.
To help get the most out of your porcelain veneers, we recommend that you avoid certain damaging habits, such as chewing on ice cubes or biting your fingernails. Your dentist will provide you with instructions on how to make sure you get the most out of your dental veneers.
What if my porcelain veneers fall off or are damaged?
If your porcelain veneers are damaged or fall out, we recommend keeping the affected area as clean as possible before contacting our Wilmington practice at (302) 231-3100. Don't attempt to fix the dental veneer yourself, as this may lead to further damage. Drs. Brown and Baran will address the issue by examining your teeth's health and having a replacement created.
Does dental insurance cover porcelain veneers?
Most dental insurance companies don't cover porcelain veneers, as they're considered a cosmetic procedure. However, our practice recommends contacting your insurance provider anyway to get an accurate understanding of your policy and benefits. During your initial consultation, we'll also provide you with an accurate cost estimate of your treatment.
Conceal Your Imperfections & Show Off Your Smile
A stunning smile can boost your confidence and improve your quality-of-life. If a dental injury or cosmetic imperfections are causing you to hide your smile in public, porcelain veneers can help you get back to living with confidence. Our dental experts, Drs. Brown and Baran, and our experienced team will make sure you're able to achieve your dream smile.
Schedule a consultation today by calling our Wilmington office at (302) 231-3100 or our Seaford office at (302) 404-0700. You can also fill out our convenient contact form below. We proudly serve people who reside in Pike Creek, Marshallton, and Stanton, DE areas.