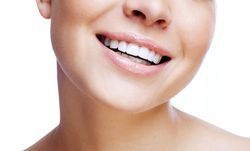 Even if you are an exemplary patient who never misses a dental exam and brushes after every meal, your smile might not be as bright as it once was. There are several factors that can cause stains and discoloration, including foods and beverages like coffee, tea, wine, and cola, as well as the natural aging process. Fortunately, Drs.
Paul E. Brown
,
Christopher S. Baran
, and
Mark B. Brown
, offer both in-office
teeth whitening
and take-home KöR® whitening kits for our patients in
Seaford, DE
, and the surrounding areas. Take the first step towards revitalizing your smile and
schedule your consultation
at one of our convenient
locations
.
Determining Your Candidacy
Teeth are made of an inner layer called dentin, and a hard outer layer, or enamel. When you consume highly pigmented foods or drinks, stains gradually accumulate in the enamel. Regular dental exams and good oral hygiene can help eliminate some of this discoloration but some molecules will form deposits, resulting in stains. Although this discoloration is harmless, some patients feel it detracts from their appearance.
Teeth whitening is a safe and popular cosmetic procedure, but it is not suitable for everyone. This includes:
Children under 16
Pregnant or nursing women
Patients with periodontal disease, worn enamel, tooth damage, or decay
Staining as a result of certain antibiotics, including tetracycline, or too much fluoride
Patients who are allergic to peroxide
How Whitening Systems Work
Teeth whitening involves applying a peroxide solution directly to the enamel to lighten and bleach the teeth. Depending on the severity of your condition and cosmetic goals, your doctor will recommend in-office treatment or take-home whitening, or a combination. Although over-the-counter options are a popular alternative to dentist-supervised methods, the weaker solution and lack of customization can make it difficult to achieve uniform results.
Your Treatment Options
In-office Whitening
During in-office teeth whitening treatment, the dentist or hygienist will thoroughly clean your teeth. A protective barrier will be placed on your gums to prevent the solution from irritating the soft tissue. Next, the peroxide solution will be carefully applied to your teeth and allowed to sit for 15 minutes. A heat or lamp may be applied and the process repeated until your desired results are achieved. This whitening option allows patients to achieve dramatic results in just one appointment.
Take-home Kits
If you decide on KöR® take-home teeth whitening, the dentist will take impressions of your teeth which will be used to create flexible, custom-fitting trays. These trays will be filled with a gel and worn for a specified amount of time each day or overnight. At-home whitening may take between several days and two weeks before patients see results that are comparable to in-office treatment.
Although in-office treatment offers immediate results, there are unique advantages to take-home teeth whitening kits. You may simply prefer to whiten your teeth on your own schedule and in the comfort of your own home. The solution used in our KöR® at-home kits is specially designed for patients with sensitive teeth. Finally, take-home treatments are generally more cost-effective than in-office whitening.
Because whitening is not permanent, you may require regular touch-ups to keep your smile bright and white. During a consultation, you can also discuss methods for maintaining a whiter smile in between treatments.
Contact Us
Feeling confident in your smile can enhance your entire appearance.
Contact us
today to set up your consultation and learn more about teeth whitening.